SPIRITUALITY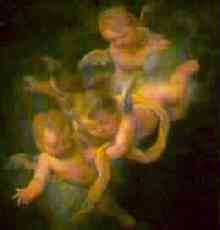 "The world is alive with the grandeur of God!"

Bernie Ward
The most important thing in my life is my spirituality. One of the coolest sites on the net is Spirit-WWW. They have a lot of goodies on metaphysical subjects.
In addition to being Catholic, I practice ritual candle burning and give tarot readings. I feel spiritually renewed at the beach and at Mass. I try to make it to Midnight Mass and Easter Vigil every year. I've been hearing Mass more often, lately. Our Lady of the Pillar in Half Moon Bay is an amazing parish with a wonderful padi, Father Domingo Orimaco. Unity Churches produce one of the best daily devotionals, which is now available on line. Check out today's Daily Word.
"I do not feel obliged to believe that the same God who has endowed us with sense, reason, and intellect has intended us to forego their use."

Galileo Galilei
I strongly believe in the validity of all religions. I picture God in the center of a room. There are many doors that lead to that room, and any one of them will get you to Him/Her.
I also believe in the power of prayer. Check out my

Favorite Prayers
There's nothing wrong with asking for a little help from above when you need it. Saying thank you when things are going great never hurt anybody either.
Here's some food for thought. Check out some of my

Favorite Zen Stories
When I ponder these spiritual issues, I end up thinking about my own mortality. Hey, no one is going to get out of here alive!! I wonder about

Heaven and Hell
That's what I think about, go figure.
CAUTION: These sites contain some not very nice descriptions of the people I loathe, plus links to some irreverent sites about these people. If you are a member of the conservative religious reich, or the Kathie Lee Gifford fan club, do yourself a favor and don't visit my personal hell. If I have intrigued you enough to visit, I hope you're not easily offended. It's called SATIRE. Look it up.

If you're not too fond of eye-candy, check out my heaven, anyway, but don't bother checking out some of the most fantastic pictures of the sexiest people on earth. YMMV
Well, I guess that's all I really have to tell you about myself. Thank you for indulging me.
"When I stand before God at the end of my life, I would hope that I would not have a single bit of talent left, and could say, 'I used everything You gave me.'"

Erma Bombeck
I wish for you never-ending joy. May God (the One of your understanding) richly bless you on your journey.